Yottled allows you to set when you're available and when you're unavailable. By default, Yottled sets working hours from 6 am to 8 pm local time, every day. To change this or add any time that you're not available:
Step 1. Login to your personal page by visiting app.yottled.com/login
Step 2. Open your Account Settings, found in the top right corner. Click "Availability"
Step 3. Change, or modify your working hours by clicking "Add"
By default, Working Hours availability is set from 9 am to 8 pm, local time
If you have an existing appointment on your calendar, Yottled will show that time as unavailable automatically.
To change your availability, remove the default by clicking the "x"
Next, click ADD, and add a new block of available hours
If you do not have any available hours listed, you will be unavailable for the entire day.
To add time when you're unavailable during the day (as an example, I take lunch at 12:00), click the toggle of "I'm available at" to add unavailable blocks:
Unavailable hours take precedence over available ones to enable you to more easily set breaks.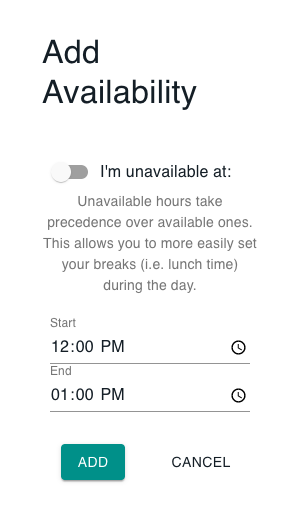 Common Questions
What happens if I don't set any availability during the day?

You will be unavailable for the entire day.

Can I have more than one section of availability or unavailability during the day?

Absolutely! Add as many as you need!

What happens if I already have an event on my calendar?

No need to do anything! You'll automatically be marked "unavailable" for contacts.